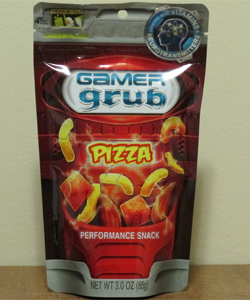 You know...instead of eating a slice of actual pizza.
Back in 2009, I wrote a vitriolic little piece about the then new act of marketing non-game related products exclusively to gamers. At the time, gamers as a specific demographic were largely ignored, except by computer manufacturers and entertainment companies, and it seemed like overnight the paradigm had shifted and now they were trying to sell Gillette razors and what appeared to be kibble (but was apparently a snack food) to us.
Since then, this kind of marketing has shifted away from overtly trying to sell rebranded products that had already been on the market for normals, and has returned to its previous semi-niche existence. They just aren't trying to sell stuff to people that spend most of their free money on games anymore. Well, that and the recession that hit later pretty much forced advertisers to take a back to basics approach. Can a rejection of pre-November Christmas advertisements be far behind? Probably not, but a guy can dream that impossible dream.
One of the targets of my ire back then was a relatively new snack food called Gamer Grub. The makers claimed that it was designed to be eaten during gaming sessions, was formulated for good nutrition (and a healthy coat...oops, there goes that kibble comparison again). Most importantly, it was sold in a can-like apparatus that could be tilted into the mouth of the consumer, in order to keep their hands clean. This last part was what I think a lot of gamers took issue with.
I always felt a little bad for pointing out Gamer Grub as a symptom of a larger, distasteful lesser evil without actually giving it a try. When I went to pick some up, I did notice that a few things had changed. For one, the cans had now been replaced with foil pouches, which have the advantage of being more lightweight, more portable and create less waste.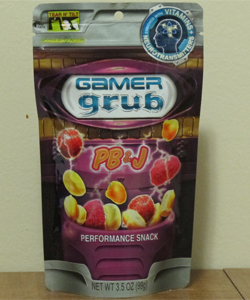 You know...instead of eating an actual sandwich.
The other big difference, and the one that mattered more to me, was that the flavors and the compositions of the snacks had changed. The original line-up of Action Pizza, Racing Wasabi, Strategy Chocolate and Sports PB&J had been replaced with Pizza, BBQ, S'mores and PB&J. So, they had dropped the pandering genre names, which was good news. I decided on two: Pizza and PB&J. Partly because they were the longest-lasting flavors and partly because that's what was there.
One major thing that I noticed, both on the packages and in the advertisements was that the food supposedly contains neurotransmitters. The package specifies that they contain 68 mg of a "Proprietary Cognitive Blend" that consists of choline and L-glutamic acid. Now I have no idea what these are, but a quick search on Wikipedia tells me that they are both neurotransmitters that we eat every day normally as part of a normal diet. Choline is in spinach, and Popeye was a pretty strong guy, so I guess that part's good. One part that gives me pause is that glutamic acids are often used as flavor enhancers such as in soy sauce or MSG. Ahh, monosodium glutamate, my old friend, so we meet again.
Unlike most Horrors of the Ice Box, these things aren't frozen, and they don't require any cooking. They're meant to open and eat. So, the normal rules don't apply. Instead, Zaz and I are going to each try out the flavors, give our impressions and also evaluate the usefulness of the packaging, since that's apparently one of the benefits of the stuff. The only thing left is to determine whether Gamer Grub is a yummy treat for gamers on the go, or just a modern day precursor to Bachelor Chow.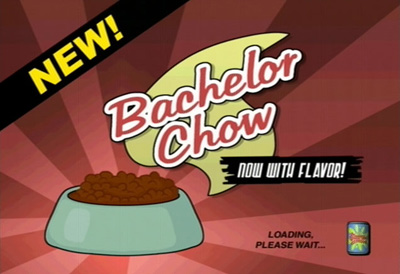 Look for it in a future edition of Horrors of the Ice Box.
Pizza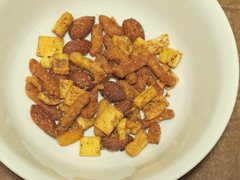 Even at this small size, the salt is still very visible.
We started in with Pizza, because it's sort of like the main course of this half-assed meal. Comparatively speaking, it's the unhealthier of the two, containing an additional 3% of the daily total fat intake and 36% of the daily total sodium intake over and above the PB&J flavor. It's interesting to note that this little pouch, containing about a cup of mix supposedly has about 3 servings inside. Inside this mix are cheese curls, tomato almonds, sesame sticks, pita chips, fried onions and pizza cashews.
Zaz remarked that the smell is very strong, but it reminds her of something called Pizza Shapes that she used to have back in Australia. On the other hand, I was greatly reminded of pizza-flavored Combos: the official snack of Nascar. Pretty generic overall.
As far as flavor goes, both of us found that the snack had a very strong artificial pizza flavor, the generic kind that you get in any pizza flavored snack. The official guess is that some food scientist combined the taste of tomatoes, oregano and some other assorted spices and called it a day. It's all quite salty, and the artificial pizza flavoring masks the other items put into the bag. I mean, what's the point of putting in almonds or fried onions if you can't actually taste them?
The mix itself is very crunchy, which is what you want in a snack food. Somewhere in between a potato chip and a corn nut. But more than that, there's quite a variety of crunch to it. There's the crispness of the onions, pita chips and sesame sticks mixed in with the snap of the almonds and cashews. However, I found that the nut pieces tended to trap some of the other stuff in my teeth, and I was forced to find a toothpick to help dig them out.
Jordan's Scores
Smell: 5/10
Taste: 6/10
Mouthfeel: 8/10
Total Score:







(6.3/10)
Zarina's Scores
Smell: 8/10
Taste: 5/10
Mouthfeel: 8/10
Total Score:







(7.0/10)
Total Score
Smell: 6.5/10
Taste: 5.5/10
Mouthfeel: 8/10
Total Score:







(6.6/10)
PB&J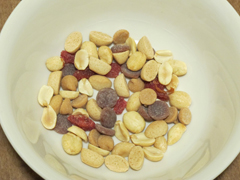 Wow, it's like very boring trail mix.
Good old reliable PB&J or Peanut Butter and Jelly for those of you who are uninitiated was the second selection of the night. Strangely, this container had 3-1/2 servings in it. Somehow, I don't imagine that a gamer would dole out a half a serving to themselves. It seems rather counter-intuitive. Inside this mix are peanut butter chips, peanuts, dehydrated strawberries, strawberry jelly chips and sweet bread.
In regards to the smell, both Zaz and I noticed that it smelled very strongly of peanuts, which shouldn't be too surprising, since it actually contains them. Neither of us could really smell any of the strawberries or jelly chips though, and we were divided on what the mix smelled mostly of. Zaz is firmly convinced that it smells like peanut butter ice cream (whatever that is), while I think it's not unlike traditional trail mix.
Zaz was very unimpressed with the taste. She likened it to a salty peanut butter cookie and complained that she didn't really get any strawberries in hers. On the other hand, I did get some strawberry jelly chips and found that they were an excellent counterbalance to the saltiness of the peanuts, with both flavors coming through quite prominently.
We also found ourselves debating over the mouthfeel. Zaz described the mixture as being firm, but with lots of interesting textures, especially the chewiness of the jelly chips. She also wanted it on record that it was "like a LAN party in [her] mouth". I was less than impressed. Although I found that a lot of the components came together quite well, the jelly chips did not mix with the peanuts at all. I thought it was like something out of the Simpsons.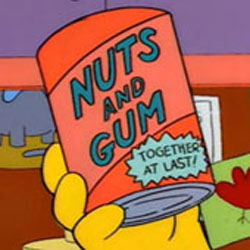 I am a white male, aged 18 to 49 and nobody listens to me.
Jordan's Scores
Smell: 5/10
Taste: 7/10
Mouthfeel: 3/10
Total Score:





(5.0/10)
Zarina's Scores
Smell: 7/10
Taste: 6/10
Mouthfeel: 8/10
Total Score:







(7.0/10)
Total Score
Smell: 6.0/10
Taste: 6.5/10
Mouthfeel: 5.5/10
Total Score:






(6.0/10)
The Totals:
Smell: 6.3/10
Taste: 6.0/10
Mouthfeel: 6.8/10
Total Score:







(6.3/10)
And how did the foil packages hold up as being convenient for gamers? Well, there's no question that the pouch keeps hands from getting sticky or greasy, and the zip-top keeps things from spilling out. Well, other than those points, both of us gave the packaging a failing mark. Zaz remarked that the larger pieces in the Pizza flavor tended to fall out of the bag when she tried to tilt the mix into her mouth. She also experienced similar results with PB&J, but not to the same extent.
Myself, I found the entire thing all too fiddly. If I'm gaming, I'm using both hands, either on a game controller or on the keyboard and mouse. The pouches can be opened by holding onto the bag and tearing open the top with your teeth, but the zip-top is much too small and strong to open that way, and I found it easiest to open with both my hands. At that point, gaming is pretty much on hold, negating the purpose of the design. Comparatively, Ensure meal replacement shakes come in a bottle or can, either of which can be easily opened and consumed with one hand and come in six flavors, including butter pecan. They can also be consumed cold, which Gamer Grub cannot. I'm going to have to give the point to Ensure.
And so, we've found that while Gamer Grub may not live up to all its claims, it is a fairly decent snack, which is honestly more than I expected going into it.
The bottom line is this: Gamers should look into the meal replacement foods that are served to the elderly in nursing homes. They are highly fortified with vitamins and minerals and are designed to pack as much into them as possible. Most can be served chilled, most come in drink form and the companies that make them design them in several different flavors in order to stop "flavor fatigue" (which believe it or not was actually covered in part one of our D&D article Eating on the Move: A Guide to Trail Rations).
Next time, we'll continue our look at unusual foods that are a little removed from the ice box. I promise it won't be Ensure.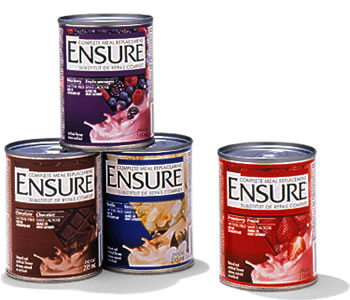 No promises.
Did you like this article? Then try: