You Americans have had the Double Down for ages. I gotta say that I'm more than a little jealous. Well, jealous might not be the right word. It's more of a loathing dread. More because somebody will start bothering me about the damn things and eventually I'll have to try it. Strangely enough, I'm not hugely interested in eating them. They just seem so damned terrible.
On the face, there's not a whole lot to them, it's just a couple of pieces of fried chicken, with some bacon, some cheese and the Colonel's secret sauce, which I think might be the bastard child of a honey mustard, but I'm not quite certain.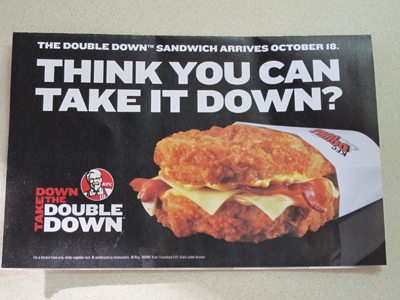 The original slogan 'Think you can keep it down?' was not really a hit with
the marketing department.
Kentucky Fried Chicken has the nerve to call this a sandwich. Me? I'm not exactly sure what to think. The closest I can come up with is probably some kind of hand-held casserole, but that's probably not right either.
On October 18th, 2010, the Double Down was finally released in Canada. Almost immediately I started getting emails from people asking me if I had tried it, what I thought of it and so on and so on. And this went on for some time. I'd consider it, then something would come up and it would get put off. This went on for some time, just until Taco Bell's Doritos Locos Tacos came out. The local KFC is also the local Taco Bell, so the chance to kill one stomach with two bombs.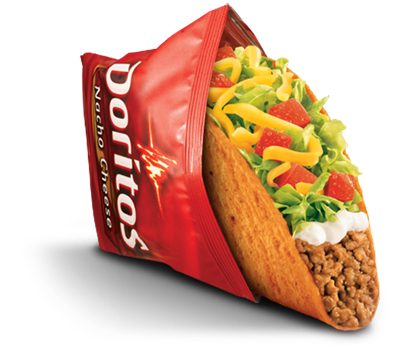 Thankfully, this abomination will not be featured in this article.
The bad news was that the local KFC/Taco Bell/*insert joke here* didn't have a Doritos-shelled taco...I guess it hasn't made its way to Canada (thank goodness). At the very least they had Double Downs. Not only that, but they had the Zinger Double Down...which uses pepper jack cheese, spicy mayonnaise and spicy fried chicken. As much as I'd want to have a heavy amount of fried meat and cheese, I'd prefer to have a heavy amount of fried meat and cheese with some spice to it.
This is Zaz. She's new to Babble Labs and wants to see exactly what I do around here. Unfortunately for her, she picked probably the worst possible moment to voice her request. Faster than you can ask "why are you smiling like that?" we're off in the Cavalier on our way for some meaty meatness. (I'd say 'goodness' but I'm not sure that word applies here.)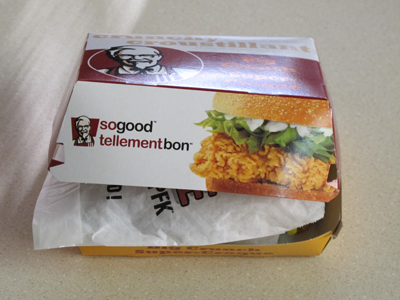 'So Good' might be a slight exaggeration.
Most burgers come in either a paper wrapper or a cardboard box. They might also come in Styrofoam boxes, but combination of that and the contents within would cause some do-gooder's head to explode. The Double Down comes in both a paper wrapper and a cardboard box. I can only guess that what I can guess is a heroic amount of grease inside the sandwich warrants the use of them.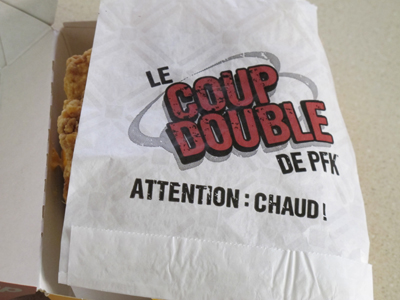 For you Yankees out there, 'chaud' is French-speak for hot.
Our shower knobs have a 'C' on it for hot and a 'F' on it for cold. Madness.
The sandwich is not much to look at...actually it's kind of hideous, but there's a kind of terrible symmetry to it that makes it almost beautiful in its craggy, drippy profile.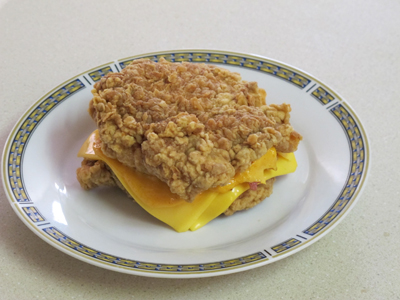 Cheesy, chickeny, drippy nugget food.
Zaz and I decided to share a sandwich, because, goddamn, that's a lot of meat.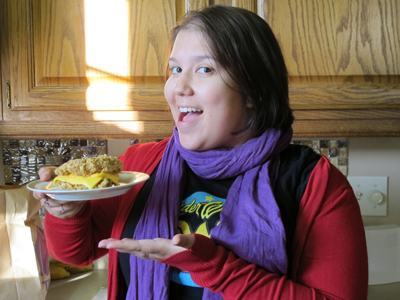 Zaz does her best impression of a Price is Right showcase girl
...only without getting molested by Bob Barker.
Surprisingly, we found that the sandwich was nowhere near as greasy as we would have expected. It was drippy though, but instead of grease, it was spicy mayonnaise and melted pepper jack cheese dripping out of the middle and congealing over our hands.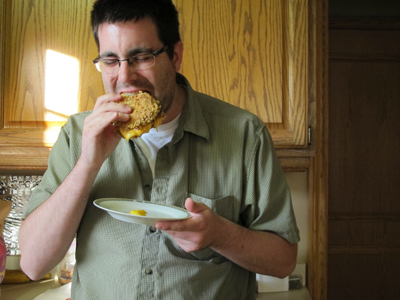 Note the puddle of electric-yellow on the plate and the total absence of self-respect.
Spiciness in fast food is usually disappointing, and most things that you can get that are advertised as spicy aren't. I'm not going to say that the Zinger Double Down is the spiciest sandwich out there, but it definitely had a bite to it. I'm not going to say it's going to put hair on your chest, but it won't make you wonder if they gave you the normal sandwich by mistake. The mayonnaise is strongly-flavored, enough so that you cannot even taste the bacon. That itself is a terrible crime.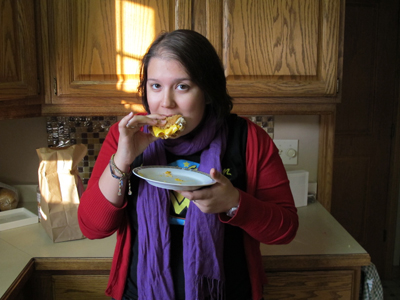 For the record, Zaz is not impressed by her meaty excursion.
Also: Meaty Excursion is the name of her Wham! cover band.
Although the sandwich isn't greasy, it is heavy. I know I've eaten a ridiculous portion of fried meat and cheese, but I don't feel manly. I just feel lethargic, like there's a lead weight in my gut. From Zaz's expression, she feels the same. Sharing the one sandwich between us may have been the most merciful thing we've ever done to our digestive systems.
When the last bite is swallowed, my stomach is already churning from all the grease and spice. I grab the antacids, throw back a few and pass them off to Zaz. At last the Double Down enacts its revenge.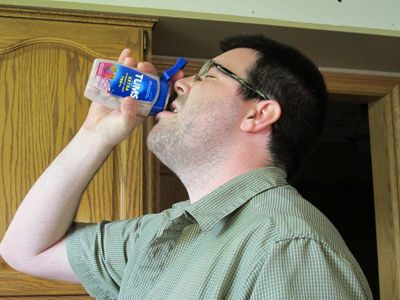 Not my proudest moment.
Did you like this article? Then try: